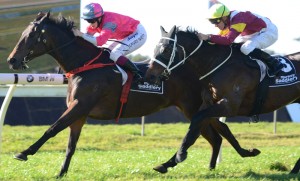 By now, you should be aware that, from August 1st 2013, all jockeys will be wearing breeches with a new sponsor's logo. If you are unaware of this information, you may need to update your address details with the Australian Jockeys Association (AJA). Call them ASAP on 02 9894 9629. The current JAYCO contract will expire on the 31st July; you will be required to keep wearing these breeches up to this date.
Markey Saddlery is one of a few companies involved in supplying your new complimentary breeches. Very soon, the AJA will inform you of the quantity of silks to be allocated to each jockey in the first year of the new 3 year contract.
The AJA is allowing us to take orders on behalf of all licensed jockeys riding in Australia, regardless what state you are based in. As you can imagine, supplying all jockeys before 1st August will be a massive job, so to ensure a smooth transition we will need to start taking orders very soon.
When placing orders it is extremely important you decide on your brand and sizing BEFORE you contact us. Feel free to phone us on 02 9601 3464, or email info@markeysaddlery.com.au with your intended orders.