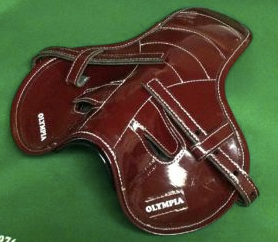 The latest addition to our lightweight saddle range for jockeys, is the OLYMPIA.
Weighing around the 125gm mark, this saddle has been sampled by Corey Brown in Australia for the last 13 months, and Zac Purton in Hong Kong for a similar period with great success.
The OLYMPIA's size and shape mimics the previously recalled EVO model from over 12 months ago, BUT with one significant improvement. The tree of this saddle is thick and sturdy, and has not flattened out like some lightweight saddle trees can.
This latest model is identified by its OLYMPIA label sewn to the flap of the saddle.
Currently priced at $495.00 the OLYMPIA comes in different colours (see below) and will be available while stocks last.